Toward life of dignity - Seema Devi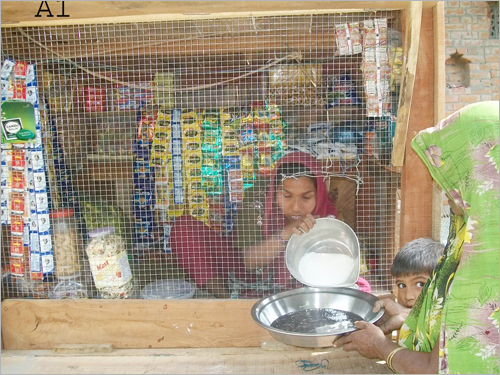 Seema Devi Sonkar, a young girl of 18, lives in village Ossa of Block Manjhanpur, Kaushambi. She lost her sight at the age of 6 because of an eye infection which developed into severe eye sores. It was a double blow for the family, since she had already lost her father when she was just one.
The widowed mother toiled in the agriculture fields as a laborer, to be able to earn a meager sum of money, which was just about enough to save her daughter and two sons from starvation. In addition, she had to suffer the humiliating taunts as she happened to belong to a lower class in the village social hierarchy.
A ray of hope came to them when they managed to get a one-room dwelling unit under the 'Housing for the Poor' Scheme of the Government. However, that did not improve Seema's situation. She was only subsist, not living, for she did nothing and had nothing to look forward to. No friends, no school and no interaction with the outside world! Her mother had not taught her any house work, she was only made to sit on a small cot all day long doing absolutely nothing. The mother thought her blind daughter was incapable of learning any skill, so the best thing would be to keep her out of the way.
Seema's condition was indeed pitiable. She was so young and had probably a very long life ahead, how would she get through it? Plus, as soon as her 2 brothers grew up, they married and moved out of the parental home; leaving behind their mother and the blind sister to fend for themselves.
During one of the surveys that are conducted under our project to locate blind people in villages, our field worker found Seema sitting outside her door. The field worker tried to speak with her, like enquiring her name and just trying to make polite conversation. But instead of responding, Seema groped her way back into the room and shut the door.
A few minutes later her mother returned from the fields and our field worker explained to her what she was doing outside their house. She told Seema's mother about the project for the rehabilitation of blind people within the villages, and also told her that they were here to help her and her daughter. Seema's mother immediately broke down and began pouring out her heart. She said that she was very worried about her daughter's future, especially about the time when she would be no more. "Who will cook for her? Who will take her around?" She wondered with tears in her eyes. Our field worker assured her that they would train Seema to become completely independent. They also promised her that they would make sure her daughter becomes economically independent as well.
Hereafter, our field worker began counseling and motivating Seema with the intervention of her mother. Of course, it was an uphill task to convince the girl as she had been inactive for the last 12 years. But, in the end, Seema finally started responding and taking interest in what was being said.
And then, her training earnestly commenced with mobility and independent living skills taking priority. Next, she was given training in social skills. She was also taught to do household work including threading a needle. Her neighbours were pleasantly surprised, even taken aback, to see a blind girl threading the needle. As training progressed, Seema began to gain confidence and agreed to give her 100 percent to acquire independence. Once she had acquired the basic skills of independent living, attention was focused on preparing her for some income-generating activity. She was given training in running a petty shop—recognizing currency notes and coins by herself, identifying small articles which she would sell, interacting with customers. She was given a loan of Rs. 10,000, with which she opened her own shop.
Soon her little shop picked up good business and her mother was so proud and relieved to see her daughter doing well.
"My worries are all gone, my daughter has really made me happy and proud" says her mother, beaming!