The confident poutry farmer - Dinesh Kumar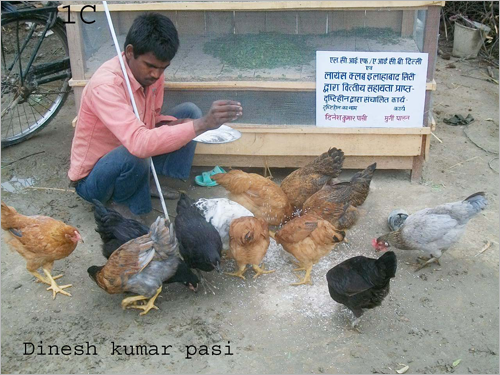 Dinesh had lost his eyesight at 16 and was located 20 years later by our field worker. He lived in a small house in the village of Tanayapar Bambura of the Manjhanpur block of Kaushambi district in Uttar Pradesh. Hailing from an extremely poor family consisting of parents and five siblings, Dinesh was completely dependent on others and was considered a burden and a liability by all.
His father, a farm labourer, was the sole earning member of their family. He hardly earned enough to make ends meet. Therefore, providing education or any other skill training to his children was not a priority; to educate or train his blind son probably never occurred to him.
Thus, Dinesh was left without any training in daily living or other skills, leading to total dejection and complete lack of self-confidence. On top of this, his mother was an illiterate, domineering woman, who had absolutely no faith or belief that her blind son was capable of anything, leave alone of learning to become independent and skilled. This further snuffed out any chance for him to come out of his desperate state of dependence.
When our field worker approached the family with an offer of providing training to Dinesh, his proposal was dismissed with disdain by the unyielding mother. Several counseling sessions were undertaken for Dinesh's mother to help her alter her negative attitude towards her son and his blindness, but to no avail. The village head was then requested to intervene on our behalf, but that too proved futile in this case.
However, despite the unyielding and negative attitude of the mother, our field worker did not give up. Fortunately, during one of his visits to the village, the field worker happened to come across a maternal relative of Dinesh Kumar, whose word the mother seemed to trust. This happily signaled the igniting of a spark of hope for Dinesh!
Once the influential relative of Dinesh's mother was made to understand our motive and how the project was going to benefit Dinesh and his family, the uncle managed to persuade Dinesh's mother to allow us to work towards rehabilitating her son.
The next hurdle, we discovered, was Dinesh's own hesitation and apprehensions. This was managed by patient counseling, constant encouragement and sharing of success stories of others like him that slowly but surely instilled a growing sense of self-belief within him.
Thereafter started the 14-week crucial training regime for Dinesh. This included mobility, orientation, self-help and daily living skills training. Alongside training in these basic skills, the field worker in consultation with the project supervisor also began to plan for some economic activity for Dinesh. Dinesh was imparted training in poultry work, since this was a widely followed economic activity in the village.
Subsequent to the training, loan of Rs. 8,000 was disbursed to Dinesh and a few birds were purchased for him to begin his business.
As Dinesh began to move around the village independently with the help of his white cane and started his poultry business, his siblings were awe-struck. His mother, in particular, thought that some special providential intervention has taken place.
But, then, unfortunately, due to wrong advice from some misguiding elements, his family helped him to purchase some unhealthy birds, which threatened to infect and wipe out his entire flock! To avert this impending disaster and save his hard work and efforts, the Confederation plowed in, from its own resources and not from the project funding, an additional financial assistance of Rs. 3,000. This helped Dinesh weed out the infected birds and restore his business.
As a result of the interventions under the project, Dinesh Kumar's life has now undergone a sea-change. He sells eggs worth Rs. 80 to Rs.90 per day which has not only raised the family income, but has also restored his respect in the community.