Restored to a life of dignity - Hassan Mohammed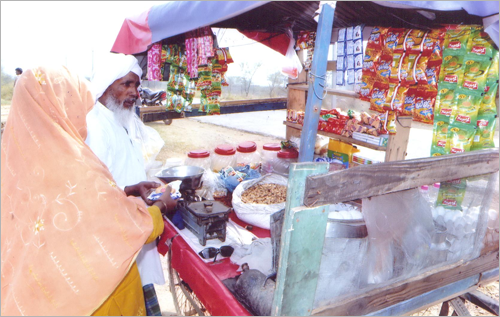 This is the story of Hassan Mohammed, of Firozpur Namak village in the District of Mewat, Haryana State. He is around 48 and belongs to the minority Muslim community.
Hassan, a tailor by profession, was struck by Glaucoma when he was 37, an eye disease which can result in irreversible blindness if left untreated. And, that is exactly what happened to him! Before he realized it, he had lost sight in both eyes, plunging his world, it seemed to him into total darkness-- forever.
It was only then that he thought of getting medical help. As was to be expected, there was no cure for his condition at this late stage. Yet, as blindness is something none of us can accept easily, he spent the next three years running in vain from doctor to doctor, and then from quack to faith healers , with no positive outcome. Of course, the only result was that his fervent pursuit left him penniless and crestfallen! Blindness now was with him to stay!
His disability took away from him his tailoring work; he sadly had to shut down his shop, which meant he was no longer able to earn to support his family. This was not all; the worst was yet to come. His wife deserted him, his eldest son, who was a barber, too walked out on him to set up his own separate home. Hassan was now left to fend for himself, without any support or skill to fall back on. So, he took to begging! For, that was all he could think of-- he had to survive somehow. And, here too, he could not manage on his own. For this purpose, he left his village to evade the disdainful attitude of people who knew him, taking with him one of his younger children to help him beg.
About a year back, it was in this pathetic situation that one of our field workers found him. It was a heart breaking sight to see this poor blind man begging, sitting by the roadside, with his little son assisting him. Our field worker immediately got to work. However, it was only after a great deal of consistent persuasion and counseling that he managed to get Hassan to return to his village and refrain from the heart-rending act of begging. The next step was to get his wife to return home to him. The idea was to mend a broken relationship, as well as for her to sustain their family by working on nearby farms during the period of Hassan's training. Initially, she resisted this proposition, but when the village Head and some other influential senior citizens were contacted by our field worker to intervene and to persuade her, she complied. This then made it possible for Hassan's training to commence in earnest.
Hassan Mohammed was helped to learn independent living skills, self-help skills, mobility and social skills. He was an intelligent man and, subsequent to rigorous counseling sessions, he had turned out to be very hard working, too. Soon, he had regained his lost confidence and self-esteem. He began to once again manage his life independently. In about four months, he was ready to turn a new leaf!
He was given Rs. 12,000 as micro finance to start up his shop. Interestingly, his was not a stationary one, he chose a shop on wheels! He wheeled his shop around, which was set up on a trolley, to strategic places at different times of the day, laden with different articles according to seasons and situations--at schools, then at important road junctions/bus stops and then at the main town centre. His speed and efficiency in handling his wares for sale was amazing, at times unbelievable! He now manages a sale of up to Rs. 1000 per day, which is a very substantial amount, considering the backwardness of the region which he operates from. He is now a highly respected member not only of the family, but of the entire community!