Overcoming late blindness with stoicness of heart - Mansoor Ahmed Farooq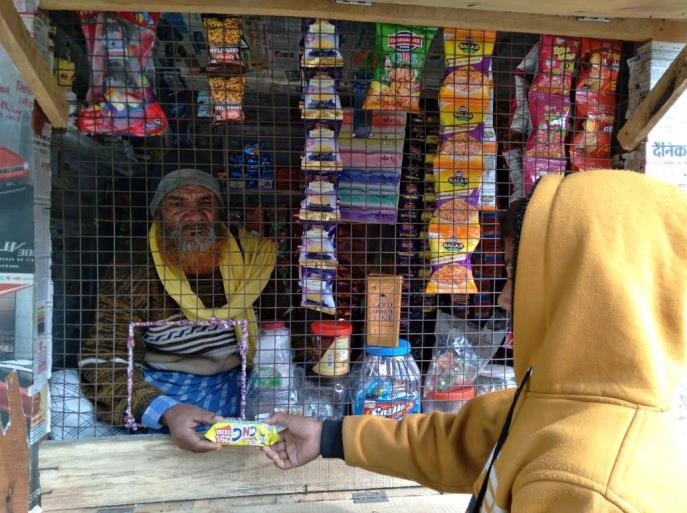 46 years old Mansoor Ahmed Farooq, a resident in our Pratapgarh district lost his sight due to corneal degeneration six years ago, when he was 40. He had been an owner of a small electrical appliances business in Mumbai, doing well for himself and his family, when he showed signs of losing his sight. Treatment was ineffective. He also underwent a cornea transplant since he was fortunate to get a voluntary donor through the hospital eye bank scheme. However, it was unsuccessful. In the absence of a social security health insurance scheme in India, Mansoor spent almost all his savings on his treatment. Left almost penniless, he decided to shift back to his village to cut down his expenses and take whatever little advantage there was of a family home.
We learnt about him at the local Friday prayers at the village mosque. Then we met him at his village home. From comparative prosperity in Mumbai, he was now in a difficult economic situation. He has a large family - a wife and five children: three boys and two daughters. He was a small landowner and agricultural income, however little, was his sole means of survival.
While alert, he was unwilling to trust us. "When my own people abandoned me during my bad period, how can I expect strangers to help me?" was his constant refrain. His faith in humanity and self-confidence had taken a beating. His fellow community members were sceptical of our intentions and were openly scornful of us. We counselled him, invited him to our BPS persons meeting and importantly, our affiliate representative Mrs. Gauri Sen, motivated him by sharing her own journey of living successfully and managing her life well by overcoming her blindness.
Eventually he saw the light!
We initially trained him in O&M and DLS, of which he had little or no knowledge. His confidence started coming back as he started relishing his getting back his independence, which he had enjoyed for 40 years! He enjoyed learning money recognition since it evoked nostalgic memories of his successful days at Mumbai.
We trained him to run a shop since he had a background of dealing with people in his earlier experiences as a sighted person. He has started enjoying his new role as a shopkeeper. He has started earning through running the shop. He remains in the shop from morning to evening. He hopes that he will earn a handsome amount in coming days. "I am happy to be independent again" he signs off with a smile.
Mansoor is a good example of human determination to overcome catastrophe and AICB is delighted to participate in this exercise.