Never say die attitude helps serve tea to others - Narendra Kumar Pandey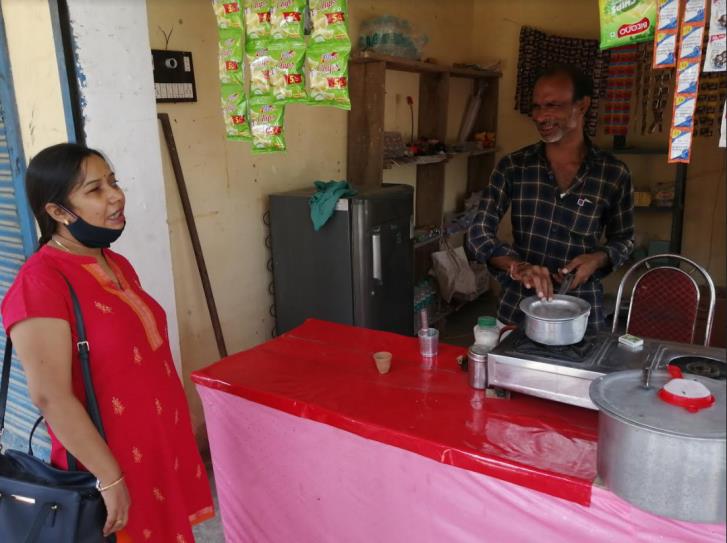 45 year old partially sighted Narendra Kumar Pandey was born with micro-cornea and had very low vision. His wife is also partially sighted with low vision but is adept at housework. They have a son, aged 10 and a daughter 7 years, both in schools. His parents and a brother live separately. Though a BPS person he had a regular job as a gardener in the state run National Thermal Power Corporation in the city of Unchahar, which is where his family and he stayed. The pandemic and lockdown led to his being laid off and thus he became unemployed. His only option to sustain himself was to return to his home village in district Pratapgarh, our project area.
Which he did in March 2020. His family was supportive and looked after him. Mentally, he was alert, being a survivor of difficult times. He readily agreed to join our training. Due to the uncertain times, he was not confident about our intentions. Some open-minded local people added to our efforts at motivating him and making him believe in our intentions. Finally, he started cooperating and in time picked up all the skills necessary for reasonable independence in his chosen vocation of running a Tea Stall. He felt he would be more successful in so doing rather than running a petty shop. He has equipped his shop with a refrigerator also.
On our follow up visit within a week, we were pleasantly surprised to see him report sales of between Rs. 800 to Rs. 1000 every day, selling tea and biscuits, knick knacks and the inevitable wafer chips from Pepsi - Lays! He has a neatly laid out tea stall and Mrs. Gauri Sen, our affiliate representative and a Secretary at AICB is seen here at his shop. From a job as a gardener at a state run power plant and its attendant job security, to an unemployed due to the pandemic, to a self-employed owner of a micro business, life has come full circle for Narendra Kumar Pandey. He is currently, Treasurer of our Pratapgarh Chapter.