From despair to hope - Ram Lakhan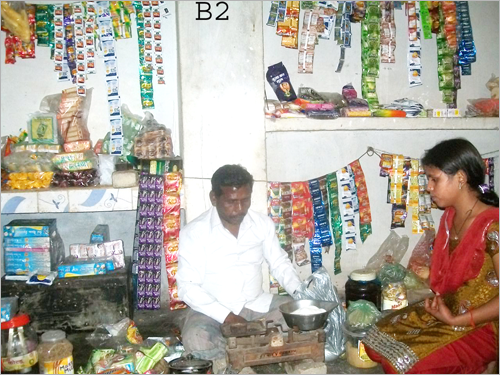 The fifty-year old Ram Lakhan lives in village West Kotari, Block Manjhanpur, Kaushambi and comes from a poor low caste family. At the age of 42, he became totally blind due to degeneration of retina. He still recalls that moment with anguish and pain. The loss of sight meant loss of earning for him, since he could not continue his work as a mason. He was no longer able to look after his family—his wife, three sons and a daughter. He was not even able to move a single step by himself, leave alone dream of earning anything again. It became well-nigh impossible for him to function as the head of the family and support them—a most degrading experience.
For some months, the family did not have any source of income and had to go through harrowing times. So, Ram Lakhan's wife had to move out in order to work in the agricultural farms as labourer to earn some money for feeding her children and the blind dependent husband. This further created inferiority complex in Ram Lakhan. He was extremely sad and depressed to find that he had to sit at home in a helpless condition, while his wife was toiling hard in the fields for supporting him and his children.
When our field workers visited the village, they were told that Ram Lakhan would not meet any outsider and always remained secluded in his hut. It was a challenge for them to establish contact and to motivate him. His wife gradually came forward and helped us to meet her husband. He had lost all hope and confidence and was not prepared to accept that he could work and earn a living again. His wife persuaded him to accompany our field worker to meet another blind client in an adjoining village. This client had already been rehabilitated by us. With considerable initial diffidence, even resistance, Ram Lakhan ultimately agreed to meet the blind person in the neighbouring village and to see how he was working. The meeting proved a major turning point in his life. Peer counseling worked. He was surprised to see a fellow blind person working at a shop independently. It was a great motivating factor and he agreed to undergo training.
We started training at his doorsteps in independent mobility in the first instance. After a few days, Ram Lakhan who was scared to move a step alone, was now in a position to move about with the help of a long cane independently. He was also taught to identify currency notes which was quite a pleasant achievement for him. He, thus, gained greater self-confidence and started taking more interest in learning other skills. Our field worker in consultation with him and his wife, decided to train him as a petty shop keeper. At the end of the training, a sum of Rs. 10,000 was given to him to enable him to take up the venture. When he began to succeed in his work at the shop, his happiness knew no bounds.
Once again, a happy and confident Ram Lakhan started making friends with people whom he used to evade earlier.
Ram Lakhan has now firmly established himself as a successful petty shop owner supporting his family—a shining example of despair turning into hope and performance.