From begging to honorable living - Mohammad Mobin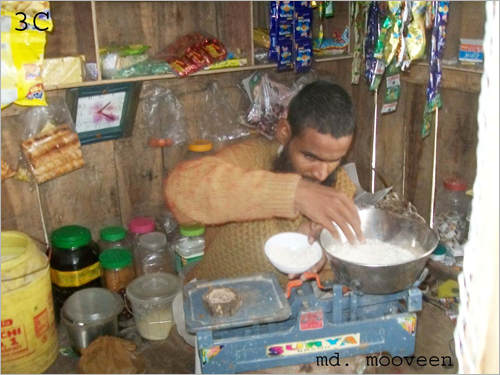 30-year-old Mohammed Mobin has been blind since birth, lives in Kashiram Colony, Manjhanpur Block, Kaushambi District. He is from the minority Muslim community. He was found by our field worker with a begging bowl in hand, as begging was his only means to earn something to support his ailing wife and himself. Evidently, he was unable to beg independently and so he had hired a small boy, on meager wages, to help him carry on the sad activity of collecting alms.
Our field worker tried to reach out to him and help him understand, that he could, if he would let himself be helped, get away from such an undignified way of life. But, Mohammed Mobin was not willing to listen and he simply shouted at our field worker and said that he was fine the way he was, and was not interested in listening to any sermons. He further went on to lament that he has to work very hard from dawn to dusk to earn a little money to feed his wife and himself! So, how does anyone expect him to give up his work just to listen to some tall stories about some kind of crazy training and self-dependence?
However, our field worker did not give up; he continued to persuade Mohammed Mobin, explaining to him in various ways the benefits of undergoing training, which would enable him to live an honorable life. Mahommad Mobin, too, unrelentingly stuck to his argument; resisting our field worker's pleas, saying "how on earth would he feed his sick wife and himself if he gave up his only source of earning and turned to training"?
This was certainly proving most challenging for our field worker. Mohammed Mobin's problem seemed perfectly legitimate. There seemed no easy or instant solution. We could give him financial assistance only when his training was completed, yet, we had to find a way for his sustenance till the time he was ready to set out on his own.
So, it was decided to actively lobby his case with some of his relatives, who lived away from him and had hitherto showed no interest in the family's well-being. This was because the relatives themselves were not well off, so it was difficult for them to take on this additional responsibility, they said. But, our field worker did not give up. In fact, he, in addition, sought help from important members of Mobin's community and together they managed to counsel and convince the relatives to help.
Ultimately, Mohammed Mobin's relatives agreed to provide him with food and financial assistance during his training period.
Once the immediate problem of sustenance was taken care of, the training commenced. Relieved of his troubles for the moment, Mohammed Mobin began to take a keen interest in his training. Yet, initially he could not resist the temptation of going begging on festivals , as there was always a chance of making a good deal of money on these special occasions.
Anyhow, with the passage of time and the persuasive skills of our project staff, soon positive results began to appear. Before long, it was noticed that as he rapidly picked up proficiency in skills like independent living, orientation and mobility, self-care, social interaction etc. he started developing an aversion to begging altogether.
Thereafter, he was given special training for running a small shop, and subsequently was provided a loan of Rs. 11,000 to set up one near his house. He is now running the shop successfully and does not leave it unless he must for some very important work. He is at present earning Rs. 100-125 per day from his shop. He has at last found a life of dignity and honor! He says that begging was one of the most humiliating and degrading activities, not only for him but for all his family. He proudly says that begging is something that he would never resort to.