Discovering the joys of being independent - Anita Devi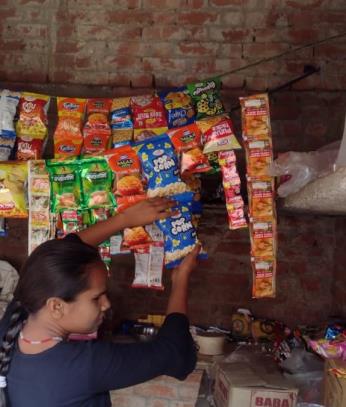 Anita was a twenty year old blind, isolated, secluded in her own house when we went to meet her. As an instance of awareness growing about our work, the local village pradhan himself informed our team about her. She has both parents and two elder brothers and a sister who stay together but the brothers do not contribute to the family income, which is limited to what the father earns as a daily wage labourer. The family is really poor.
Anita refused to talk to us passing us on to her father who was difficult to find at home. On the fifth day our field worker finally located him in a nearby field where he was then working. That is where the conversation about AICB providing rehabilitation and supporting income generating activities took place and the father agreed.
As Anita had never been through any disciplined learning, never having gone to school. So initially, she was unorganized in her ability to prepare herself for any sort of training. The persistence of our staff prevailed and soon she started responding to the joys of new found ability to do things on her own. She enjoyed learning to recognize money, both notes and coins and her mobility which was making her independent. The psychological boost of being able to thread a needle made her excited.
Soon, we found she was ready to start an income generating activity. We facilitated the establishment of a small shop which she now runs effectively, making sales averaging about rupees 500 every day, the family has started eating better and Anita is cheerful that she is not only gainfully occupied but is helping her family. Since she is only 20 and unmarried, her shop and consequent income should enable her to find a good match!