Tularam - Appreciating the highs and lows that life throws at us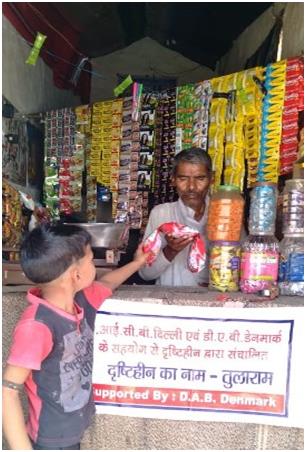 Tularam is a good example of the vagaries and fickleness of fate. A middle aged person of 55 years, he contracted glaucoma and became blind 12 years ago. He was then holding the coveted and respected position of village chowkidar (guard), a much respected job in the local hierarchy. Due to his position, he was universally respected and was often consulted by the local people to advise on and resolve disputes. He was invited to community functions and participated in them enthusiastically. Then fate intervened, he contracted glaucoma, which local doctors were unable to deal with and he lost his eyesight 12 years ago when he was 43. To compound his miseries, his wife died two years later. He had lost his job and income, in the absence of social security in India, and was now dependent on his tailor son, who lived with him in the same house, for sustenance. He has another son with a physical disability who, however, lives with his wife and children in faraway Surat, the diamond-cutting capital of the world, in Gujarat. From a loving son, the tailor-son and his wife soon started taunting him for his uselessness and financial burden on them.
"I wish God punishes no one the way He punished me," he says.
His reputation as a respected village elder, by virtue of his erstwhile position as the village guard, however sustained his social position in the community and he continued to be consulted on local and family issues and invited to community functions. "But my life was in despair and I would think about my future with sadness," he lamented. Even when our team went to meet him, he was sitting by himself, full of sorrow and wretchedness. He did not react very positively, engulfed in clouds of despair. Our team motivated him and he agreed to join our training.
His confidence came back as he learnt Daily Living Skills activities. Threading a needle successfully, made him bounce back to his old pre-loss of sight, positivity. He came out of his self imposed languidness and enthusiastically followed up on the training he was receiving. His social stature in the community made us feel convinced that he was a good candidate to run a petty shop, so we imparted specialized training, focusing on activities related to shop keeping.
He is now a proud shopkeeper and has daily sales between 600 and 800 consistently. "Thanks to AICB, I have received another innings in my life."